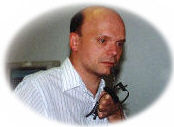 "You must do the things you think you cannot do"
- Eleanor Roosevelt


AbilityHub.com's purpose is to help you find information on adaptive equipment and alternative methods available for accessing computers. Searching the Internet for accurate information on Assistive Technology is much like "looking for a needle in a haystack". This website attempts to reduced the size of the haystack and bring you the information in an orgranized fashion.

AbiltyHub.com is created and maintained by Mr. Dan J. Gilman in association with TGGWEB. Dan has been in the Assistive Technology field since 1992 and has dedicated his efforts to assist those disabled individuals who require Assistive Technology to access the computer.

He is certified by the Rehabilitation Engineering and Assistive Technology Society of North America (RESNA) as an Assistive Technology Practitioner (ATP) and will continue to move forward in pursuit of insuring consumer safeguards and enhancing consumer satisfaction. RESNA provides Technical Assistance to Tech Projects throughout the country.

Mr. Gilman has lived with a disability since 1972 when he fractured his neck in a swimming accident, resulting in paralysis from a C4-5 spinal cord injury. He understands and is very knowledgeable in the field of Assistive Technology.

His utilization of the internet as a resource for investigating current technological advancements in Assistive Technology prompted him into learning more about html and web page development which ultimately resulted into this website.


We hope that visitors to this site will find the resources on it useful. Suggestions on how to improve this site are always very welcome and appreciated. To submit suggestions, please use the contact form to send us a message.

Thank you for visiting AbilityHub. Be an optimist and always think positive,

Dan J. Gilman, ATP


PS: I've been asked questions specific to my spinal cord injury.
Click into Everyday Warriors if your interested, and would like to learn more. Jillian Leslie--author of Everyday Warriors--has developed a "Lifeline" about life in a wheelchair.