Mini Keyboards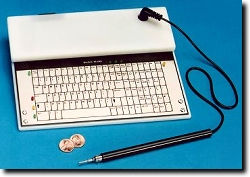 Magic Wand Keyboard

A Miniature Computer Keyboard and Mouse for People with Disabilities

Needs No Strength, No Reach, No Dexterity, Just the Slightest Hand or Head Movement

Measuring 7" x 6" x 0.5", with a typing area of only 5.4" x 3" (the Advanced Magic Wand Keyboard is 1" wider).

The Magic Wand Keyboard allows disabled people with limited or no hand movement to access any IBM or Apple Macintosh computer using only slight hand or head motion. It is the only computer keyboard, and mouse, that requires no strength and no dexterity.

Being disabled does not mean having to give up using a computer or the Internet. The Magic Wand Keyboard provides full keyboard and mouse capability so that anyone with a disability can use a computer and the Internet with ease.

The keyboard works with the slightest touch of a wand (hand-held or mouth stick). It requires absolutely no force. The mouse works exactly like a standard mouse, with every function built in, but needs no hand dexterity.